The Orange Restaurant Express is a sightseeing train that comes equipped with a proper dining car.
It is known as a restaurant train because it has worked in collaboration with local businesses along the train line itself in order to provide the freshest seasonal ingredients and dishes available in the region. But it isn't solely about the food. From the train windows you can relax and enjoy the seasonal landscapes as well as views of the ocean along the west coast of Kyushu too.
Today we'll take a short journey on the Orange Restaurant Express from Shin-Yatsushiro Station in Kumamoto Prefecture to Sendai Station in Kagoshima Prefecture and introduce some of the features of this train.
Ocean Facing Seats Command Superb Views
This time our starting station was Shin-Yatsushiro Station in Kumamoto Prefecture. Here you can see the interior of the lead car. When the Orange Restaurant Express passes along the ocean side, you can take in the views of the sea from seats such as this. There are also curtained off window seats available as well.
Before the departure, we took a brief look around inside the train. There is a bar inside, where you can order both alcoholic and standard beverages as well.
Let's Go!!
After we'd boarded and looked about, it was time for the train to depart. No sooner had we left the station, than these small sweets were given out. Throughout the journey, the passengers in these seats will be provided with many of the yummy regional treats found along the train line.
Stunning views of the scenery around you can be enjoyed to your heart's content via the large windows in the last car of the train.
There are also small seats prepared for children, which makes this a great way to travel for families as well.
After passing over the bridge, we were served chikuwa. Hinagu chikuwa is a specialty of Hinagu Onsen Station; the springy texture and simple flavor of this dish is quite appealing.
Next we passed by Yashiro Station, and were given souvenir iguza coasters (woven rush coasters). Kumamoto is the largest producer of rushes in all of Japan, and Yashiro in particular has a high output of these plants. From this coaster you can really smell the pleasant aroma of the rushes.
Incidentally, these rushes are the main component in an important part of Japanese houses: tatami.
Stopover at Sashiki Station
En route there is a brief stopover at Sashiki Station. The train stops for about fifteen minutes, giving the passengers plenty of time to look about the station.
Actually, when you purchase your ticket for the Orange Restaurant Express, you will receive a set of coupons such as this. There are several sheets of coupons that may be exchanged for famous local products at each of the stopover stations on the route. Hmm, what could this coupon be exchanged for at Sashiki Station...?
Oh, we got the city's famous curry buns! These buns are made from local beef and onions, and have a deliciously crunchy exterior with a soft, flavorful curry center that is sure to satisfy.
These exchange coupons change seasonally as do the famous products available along the train route.
Then it was time to depart once more. After Sashiki Station, next came Tsunagi Station. Here you can see Hi no Akebono,a famous 100% pure fruit juice made from kinari mikan oranges (*1) given by the city of Tsunagimachi. The combination of moderate sourness and rich sweetness make this an amazing juice.
*1 Kinari: a form of cultivation wherein the fruit is left to ripe and mature on the tree until right before it is harvested and processed.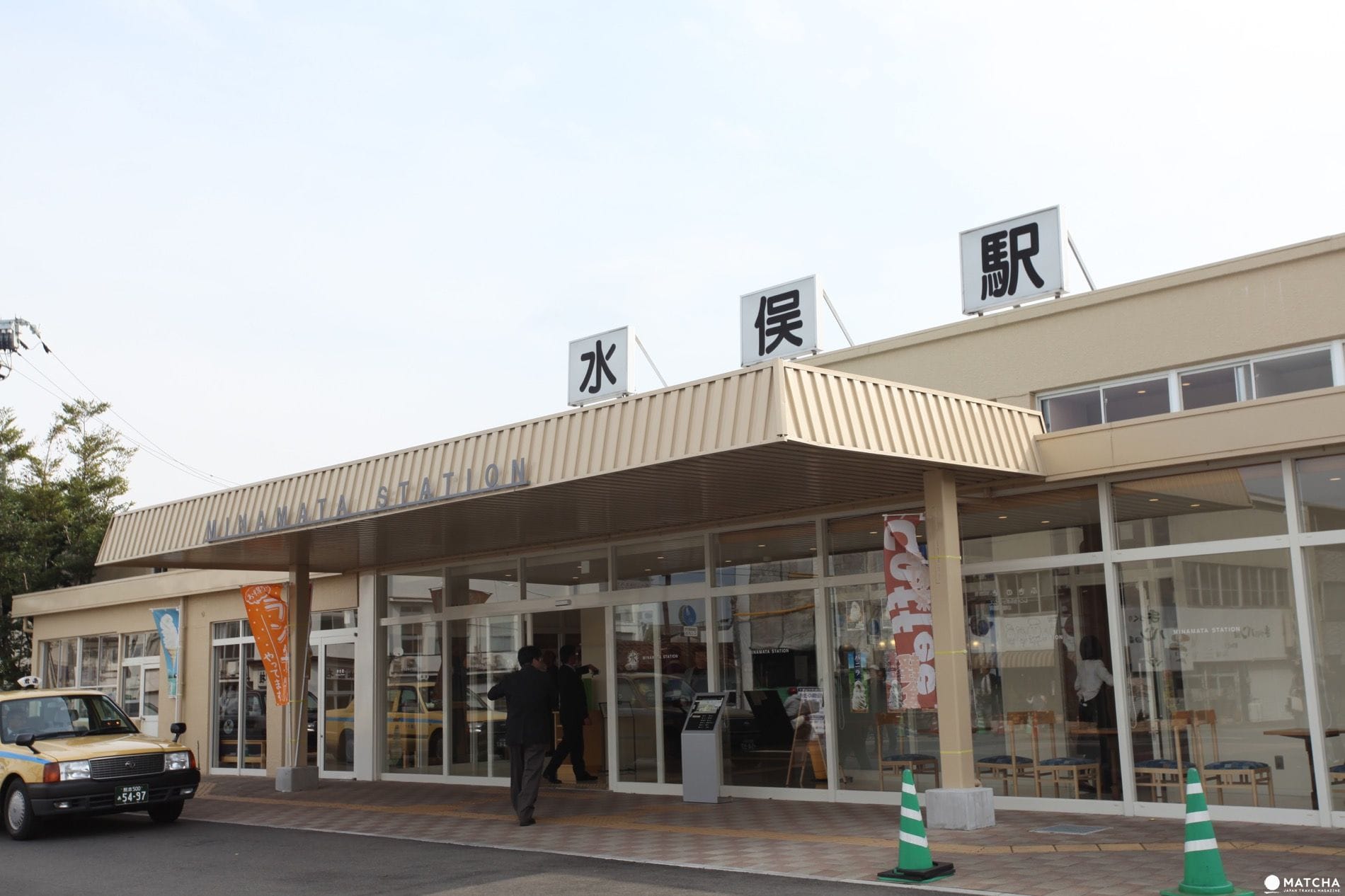 Next was Minamata Station, where we stopped for about twenty minutes. You can purchase Minamata fruits and confections inside the station building.
Passing from Kumamoto to Kagoshima
After about two hours on the train, you will notice that the train seems to slow down as you draw nearer to the prefectural border between Kumamoto and Kagoshima.
The leftside of the bridge is Higo Province (the old name for Kumamoto prefecture), and to the right is Satsuma Province (the old name for Kagoshima prefecture).
Stopping at Izumi Station for a Special Lunch
The first station that you stop at after entering Kagoshima Prefecture is Izumi Station. Izumi City in Kagoshima Prefecture is home to the world's largest population of cranes. It is said that there are about 10,000 cranes in Izumi Heiya from October to March every year.
There is a special exchange coupon to use here as well.
Speaking of Kagoshima, pork-based cuisine immediately comes to mind. Here is the popular regional cuisine, boiled pork cartilage.
In the station, you can purchase specialties from Izumi City, as well as copies of the mugs used on the Orange Restaurant Express.
Then it was time for our long-awaited lunch. Although we have enjoyed plenty of delicious treats up until this point, now it was time for our main event. Lunch was a lovely course meal prepared by Mikura, a popular restaurant in Izumi City.
First was chawanmushi, a savory steamed egg custard that featured Akune sea urchin and Takaebi shrimp .
From left to right, Izumi City's famous roast chicken with a mature persimmon vinegar dressing, boiled Akune konbumaki and local vegetables, and flame broiled eggplant with pork miso dressing.
And, potage soup made from sweet potatoes from Nagashima.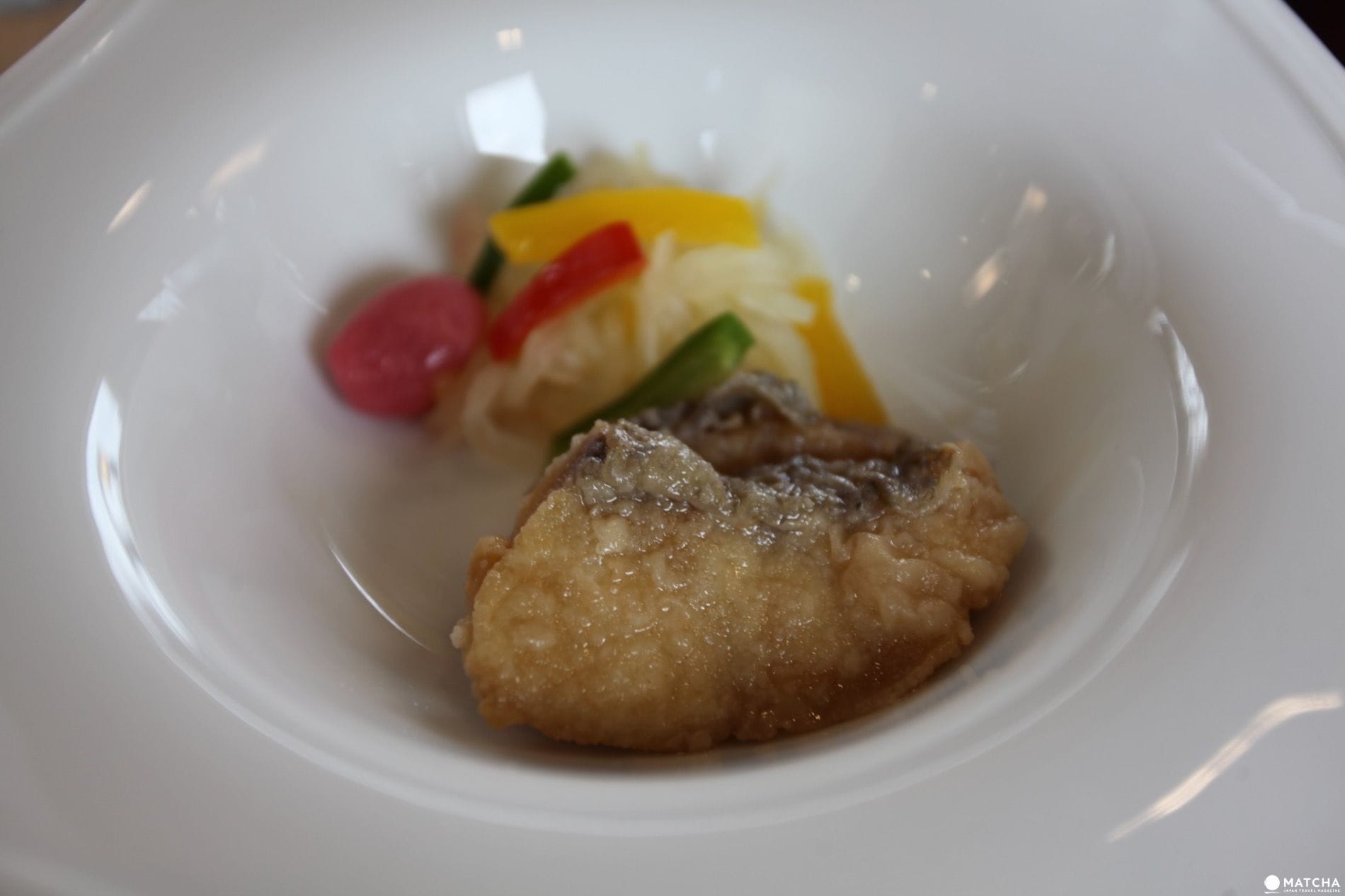 Nagashima's deep fried and marinated sea bream.
Wagyu steak from Kagoshima.
And with a slice of chocolate roll cake and custard pudding for dessert, this completely satisfying lunch came to an end.
See the Station Created by the Seven Star Designer
Akune Station was remodeled into Nigiwai Koryu Akune Station (Bustling Exchange Akune Station) on May 3rd, 2014.
The station itself was designed by Eiji Mitooka, the designer behind the Seven Stars in Kyushu luxury train. As the Akune region is rich in trees, local lumber was exclusively used in the construction of the new station, giving it a very warm and inviting atmosphere. Within the building there is a library room, kids' room, a multi-purpose event space and many other facilities wherein local residents and travelers can meet one another.
As the train stops for twenty minutes at Akune Station, visitors are able to leisurely enjoy their time at the station.
The waiting room is also used as a concert hall, which means that you might be able to see a small concert while stopped at the station as well.
Heading to Satsumataki Station
The next stop is Satsumataki Station, where Japanese sardines have been freshly grilled at the station and are waiting for you.
The train will stop for another twenty minutes here so if you would like, you can take a quick walk to the ocean, as it is located right by the station itself.
In Conclusion
What did you think of the journey? In our trip we only mentioned up to Satsumataki Station, but the final stop of the Orange Restaurant Express is actually the next station, Sendai Station.
If you would like to experience the local specialties and tranquil landscapes of both Kumamoto and Kagoshima prefectures as you travel on your way through Kyushu, then a train journey on the Orange Restaurant Express is exactly the route for you.
Reservations for this train may be made one month prior to the departure date of the train. Online reservations are not available, those wishing to book tickets for this train must call the Orange Restaurant Express Reservation Center (0996-63-6861), any of the Hisatsu line Orange Railways stations (except for Higo-Tano-Ura Station), travel centers at principal stations for JR Kyushu, or contracted travel agents.
Japan Travel Magazine MATCHA >>
JR Kagoshima Chuo Station is the busiest train station in Kagoshima Prefecture.
It is a transportation hub, served by a multitude of trains such as special express trains, sightseeing trains, and local trains.
The station has a prominent ferris wheel on top, and there are shopping arcades in the vicinity. Retail shops, restaurants and a cinema can be found here.
A highly accessible and convenient area, the terminal station for the Kagoshima City View bus is located here. The station is about a seven minute tram ride away from Tenmonkan, the downtown area of Kagoshima city.
* A central bus terminal, served by local buses, intercity highway buses, the airport limousine bus, etc. is about a five minute walk away
>>
---------
◆ Midori-no-Madoguchi (Ticket Office)
Ticket sales and inquiries (regular train tickets, reserved seating, discount tickets, commuter pass, etc.)
[ Opening Hours ] 05:30 - 23:00 HRS (open all year round)
---------
◆ Kagoshima Chuo Station Tourist Information Center
Located within JR Kagoshima Chuo station, the tourist information center offers travel information, pamphlets and brochures, and also city tours.
[ Opening Hours ] 08:00 - 20:00 HRS
---------
◆ Other facilities
Coin lockers, car rental, convenience stores, ATM, etc.
>>
The "Ibusuki no Tamatebako" is a scenic train which runs along the Ibusuki-Makurazaki line operating in the southernmost point in Japan.
"Ibusuki no Tamatebako" is named after the many places in Ibusuki which appear in the legendary folktale, "Taro Urashima".
"Tamatebako" may be literally translated as "treasure box" and is a key aspect of the "Taro Urashima" story.
Locally the "Ibusuki no Tamatebako" is referred to as "Ibutama" for short, and locals wave their hands at the train to show warmth and hospitality.
From the windows, visitors will see the vast landscape with Mt. Sakurajima and Kinko Bay which were regarded by Lord Nariakira Shimadzu as the "pond" and "artificial hill" garden elements.
Besides the landscapes along the railway lines, there are also many attractive aspects on the outside body of the trains.
The body is designed with characteristic colors: black like the mountainside and white like the seaside.
The interior also has many interesting aspects.
Chairs face outwards for a view of the ocean through the windows.
Brilliantly-colored seat designs.
Special little chairs for children.
White clouds of smoke blow out from above the door as passengers board the train.
Come ride the "Ibusuki no Tamatebako" scenic train and make lasting memories.
--------------------
[ Operation Hours ]
Every day, 3 times a day (round trip)
[ Timetable ] *Last update: 15 March 2014
[ Reservation ] *Seat reservation(s) required
◆ Reservations from within Japan
Available at ticket offices in main JR stations in every region of Japan. *Seat reservations open 1 month in advance.
◆ Applicants who has residence (address) in Japan
Online reservations are accepted 1 month in advance
>>
*Japanese language only
The Hisatsu line began its operation between Kagoshima and Yoshimatsu in 1903 along with the opening of both Kareigawa and Osumi-Yokogawa stations.
Both stations have been here since 1903, observing journeys for over 100 years.
In 1908 the hardest part, between Hitoyoshi and Yoshimatsu, was opened using a loop and switchback system.
This completed the vertical vein of Kyushu connecting Kumamoto and Kagoshima, thus connecting Kagoshima and Aomori in northern Japan by the Japan longitudinal railway.
Now, the special tourist express train "Hayato no kaze" stops at these stations.
------------
■ Osumi-Yokogawa Station *Registered National Tangible Cultural Property
Opened in 1903, this is one of the oldest wooden station buildings in the prefecture, along with Kareigawa Station.
The scars of bombing from World War Two are still visible on the platform pillars.
------------
■ Kareigawa Station *Registered National Tangible Cultural Property
One of the oldest wooden station buildings in the prefecture. The wooden building attracts many visitors.
This concept is "Enjoy the changing scenery of Kyushu west coast line with the relaxation and a comfortable space of train."
It has got attract attention and great assessment from not only Japan but also other countries.
Dining Room Car (car No.1)
This "Dining Room Car" is designed the cafe dining room of the luxury HOTEL.
The crew will serve you hot meals and soup from restaurant along with Orange Railway.
These meal using seasonal ingredients from 7 towns of coast line and also local dishes of Kagoshima area.
Living car (car No.2)
This "Living car" prepare you comfort space for relaxing as like living room of Hotel.
There are some sofa seats for two person and you can feel almost private room for you.
※It is also possible to provide meals as option.
And from this summer,
"Orange Cafe"
has also begun service in a concept "Warm welcome, Warm hospitality,Warm friendships and the Warm glow of memories".
It is low setting of a price range than Orange Restaurant, and operates every day, you can use more flexibly.
※Reservation needed at least 7 days in advanced.
There are prepare options like Shocyu-tasting, quiz game and lots more.
This train is also possible to use as private with big group, so those options might fit on any party or event by your idea.
It also accept requirement of café lunch(lunch box) made using seasonal ingredients from coast line.
Operation section: Shin-Yatsusiro・Yatsusiro sta.(Kumamoto) ~ Sendai sta. (Kagoshima)
Duration: 3 hours/one way (Approx.) from Shin-Yatsusiro sta. to Sendai sta.
More information and reservation, please contact here.
---------------------
Area guide :
Hokusatsu
>>