Kagoshima wagyu scoops top awards at national "Wagyu Olympics"
Kagoshima is officially home to the best wagyu in Japan, according to the judges of the 12th National Japanese Beef Ability Expo, which was held over five days in October 2022.

Kyushu's most southern prefecture was awarded top prizes during the prestigious competition, which is held once every five years, resulting in its popular moniker, the "Wagyu Olympics."
Kagoshima recognized for top-quality wagyu
Wagyu farmers from a record 41 of Japan's 47 prefectures brought 438 cattle from all over the country—spanning Hokkaido in the north to Okinawa in the south—to participate in the hotly contested event, the pinnacle meeting of the wagyu industry.

This year's host, Kagoshima Prefecture, took first place in six of the nine judged divisions, making it the best preforming prefecture in Japan. It was also rated highly in the remaining three divisions, each based on characteristics such as the animals' age and gender.

Most noteworthy was Kagoshima Prefecture's achievement in the Breeders' Division, the most important division in the Wagyu Olympics. Three head of cattle were judged on their breeding ability and degree of physical improvement from generation to generation. Representing Kagoshima Prefecture were Haruo Miyazono, 87, and his wife Musubi, 83, who won the Prime Minister's Prize for their three cattle.

The pair have been raising wagyu cattle on a small farm in a very old barn in rural Kagoshima for more than six decades before competing in the Wagyu Olympics this year for the first time. Their three animals were evaluated most highly for their excellent body shape, growth and continued improvement throughout the generations.

Speaking at the event, Kagoshima Prefecture Governor Koichi Shiota said "Kagoshima has, without question, the best wagyu beef in Japan," adding that he wants to promote the entire prefecture's "elite black cattle."

Shiota was referring to the predominant breed of wagyu in the prefecture, Japanese Black, one of only four breeds of wagyu and accounting for 90% of all wagyu in Japan. Kagoshima is home to about 330,000 head of Japanese Black, the equivalent of about 20% of all Japanese Black nationwide.

Reflecting the color of the cattle, Kagoshima Prefecture's wagyu is called Kagoshima Kuroushi (literally black beef). Find out more about Kagoshima Kuroushi and where to enjoy it here.

Savouring Kagoshima's Wagyu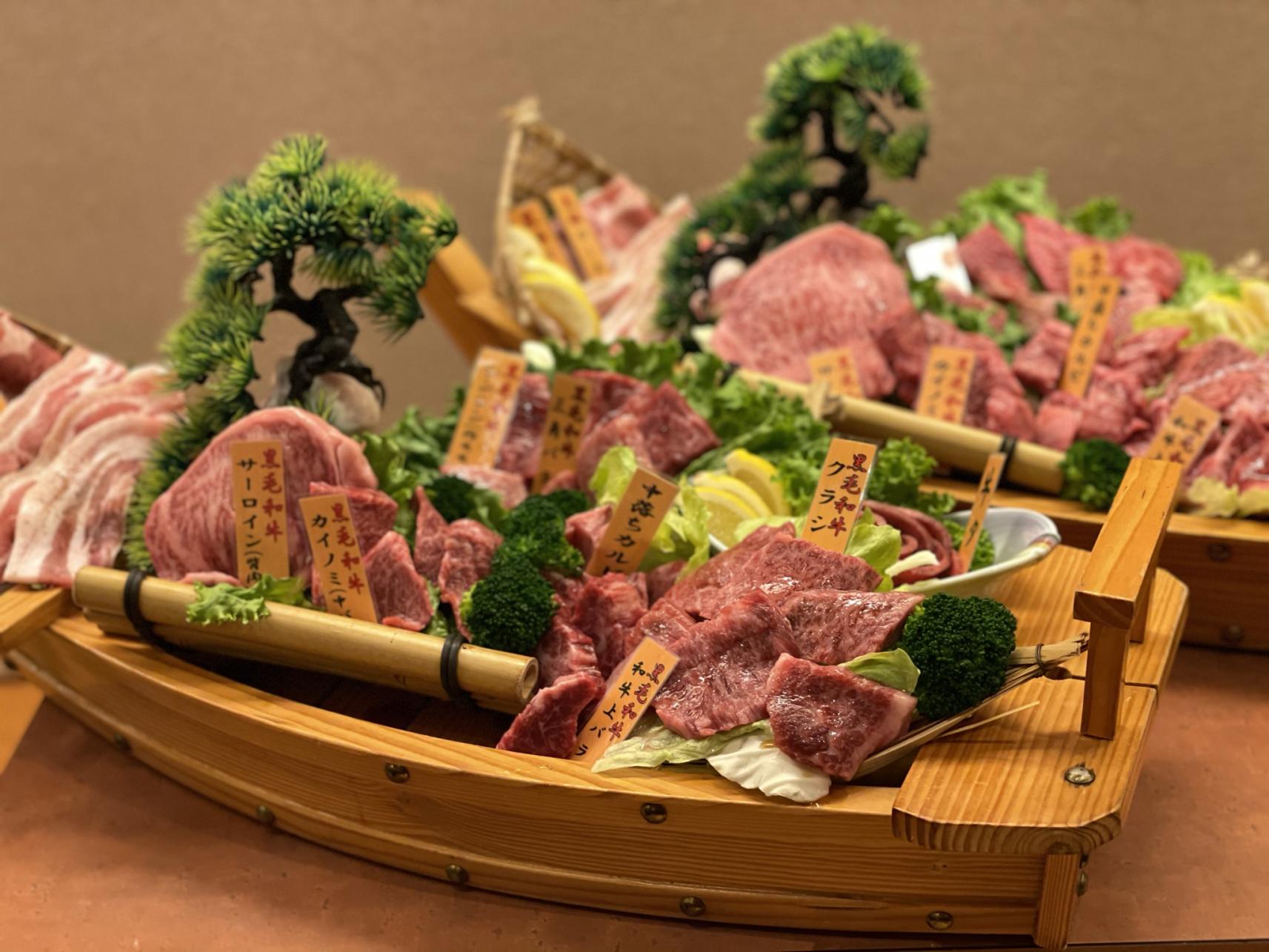 Find out more about Kagoshima Kuroushi and where to enjoy it here.
See more
Kagoshima successfully hosts premium event
An estimated 300,000 people, hailing from across Japan as well as overseas, attended the Wagyu Olympics at two sites in Kagoshima Prefecture—Kirishima City and Minamikyushu City—from October 6–10.

With a host of exhibitions and experiences set up across the spacious venues, attendees could not only watch all the live action of the competition but also learn about the wagyu industry and enjoy tasting wagyu from various parts of Japan.

There were areas dedicated to introducing the characteristics of the many brands of wagyu in Japan as well as the tourism attractions of their respective producing prefectures.

An event stage hosted live music, talk shows and attractions, offering entertainment for all while experts were on hand with specialist wagyu information for attendees from the wagyu industry.

Children and their parents, meanwhile, could enjoy interactive experiences—some utilizing virtual reality—in the Kagoshima Ushi Mama (Cow) Museum, as well as soft play outdoors.

Finally, there was an expansive outdoor food court, providing visitors with the opportunity to try all kinds of wagyu dishes from across Japan, as well as other favourites of washoku cuisine such as takoyaki (octopus in dough balls topped with savoury sauce) and kara-age (fried chicken).

With such a wide range of activities to enjoy, attendees agreed that Kagoshima Prefecture was a great host of the Wagyu Olympics, which will be held next in Hokkaido Prefecture in 2027.
Next article for you