Savouring Kagoshima's Wagyu
All your need to know about the prefecture's black beef
Japan's wagyu beef has long been beloved worldwide and continues to grow in popularity thanks to growing exports and a rise in the number of visitors to Japan in recent years. Only four breeds are considered wagyu (Japanese Black, Japanese Brown, Japanese Polled and Japanese Shorthorn) and all wagyu cattle are raised using luxurious methods, making this top-quality meat a truly must-try dish.

Kagoshima's wagyu is derived from the Japanese Black, which gives it its name, kuroushi (literally black cow). It is one of the prefecture's most well-known and consumed culinary products, enjoyed by local people and tourists alike.

For meat-eaters, a visit to Kagoshima Prefecture would not be complete without a chance to taste and appreciate Kagoshima Kuroushi, so here is our guide to this delicious local beef.
Key features
Kagoshima Kuroushi is finely textured and tender, with a well-balanced fat content. The meat is full-bodied, with a delicate flavour and distinct umami profile. The intricate marbling allows for a large amount of unsaturated fatty acids, rich in healthy omega 3 and 6, to be woven through the meat. The result is fat with a low melting temperature, which creates a melt-in-the-mouth feel.

Kagoshima Kuroushi has a Geographical Indication, in the same way as Champagne and Parmesan. Only beef from Japanese Black cattle that spend the longest part of their feeding period and their finishing period in the prefecture can therefore be branded Kagoshima Kuroushi. So, when you eat this beef, you can be sure you are consuming local wagyu of the very highest quality.
Kagoshima Kuroushi and Japan
Kagoshima produces more wagyu than any other prefecture in Japan, placing it at the centre of the country's wagyu industry. About 20% of all Japanese Black cattle, amounting to 330,000 head, can be found in Kagoshima, and wagyu farmers across the country rely on Kagoshima for expertise on breeding and raising.

Kagoshima Kuroushi are bred and reared with special care in order to produce exquisite wagyu beef. Extreme efforts are made to create a stress-free environment that is as natural as possible. All animals have access to spacious ranches, fresh air and clean water. Pregnant cows and breeding bulls graze on pasture, and high-grade wheat, hay and rice plants are fed to calves and other bulls. Individualised care is also common, with some farmers even transporting onsen (hot spring) water to their farms so their cattle can benefit from the mineral-rich water and enjoy its warmth.

With such practices, it is not surprising that Kagoshima Kuroushi is award-winning. During Japan's most recent Japanese Wagyu Branded Beef Competition, or Wagyu Festival, in 2017, Kagoshima Kuroushi was the overall winner, scooping the top prize in four of the nine categories. It is renowned as one of Japan's most iconic brands of wagyu, with great appeal among both domestic and international visitors. If you'd like to try authentic Japanese wagyu during your stay, it is undoubtedly an excellent option.
Kagoshima recognized for top-quality wagyu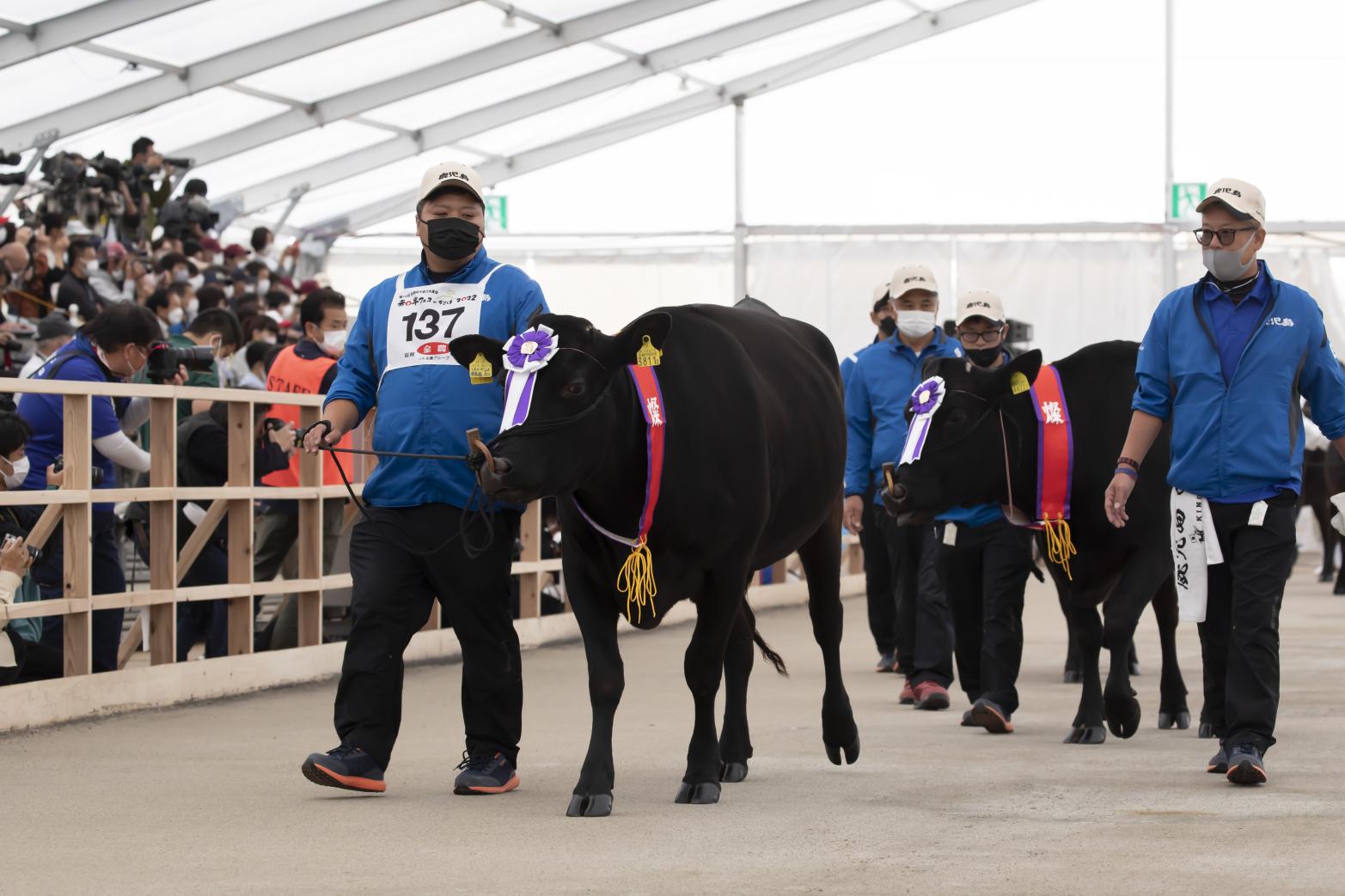 2022's host, Kagoshima Prefecture, took first place in six of the nine judged divisions, making it the best preforming prefecture in Japan. It was also rated highly in the remaining three divisions, each based on characteristics such as the animals' age and gender.
See more
Eating and pairing 
As one of the prefecture's iconic foods, Kagoshima Kuroushi can be found in a vast number of eateries prefecture-wide, from restaurants and izakaya (bars serving food) to hotels and ryokan inns.

The meat is also prepared, cooked and served in a variety of ways including teppanyaki (hot-plate style), yakiniku (grilled-meat style), sukiyaki (hot pot style) and shabu-shabu (thinly sliced meat style).
History of Kagoshima Kuroushi
In Kagoshima Prefecture, cattle were originally raised as draft animals, put to work ploughing fields, pulling wagons and so on. In the 1950s, with the widespread adoption of agricultural machinery and greater availability of transport, breeding cattle for work was phased out. Stud bulls began to be managed by both public and private organisations that supported the shift to rearing cattle for beef.

Since then, comprehensive efforts have been made throughout the prefecture to develop the breeding and rearing methods of Kagoshima's cattle. The Prefectural Stud Bull Association was established in 1985 to improve the quality of the animals and establish Kagoshima Kuroushi as a brand in collaboration with the prefecture.

Within 10 years, all the entities in the prefecture involved with the beef cattle industry came together to form the Kagoshima Prefecture Beef Cattle Promotion Association, in 1995. With the goal of not only creating top-quality beef not also raising awareness of it throughout Japan, this organisation produced manuals for cattle breeders in Kagoshima. The information provided covered everything from feed management, growth physiology and fattening to disease control, and resulted in continued improvements to the quality of Kagoshima Kuroushi.

In 2017, Kagoshima Kuroushi was registered as a Geographical Indication, a global sign used on products that have a specific geographical origin and possess qualities or a reputation that are due to that origin. Since being granted this title, its popularity has gone from strength to strength.

Today, wagyu farmers in Kagoshima continue to strive to produce the most high-quality Kagoshima Kuroushi possible, and awareness of this brand of wagyu is on the rise.
The Wagyu Festival 
Established in 1966, the Japanese Wagyu Branded Beef Competition, or Wagyu Festival, is the premium event for all those involved in Japan's beef cattle industry. The event aims to promote excellence in wagyu farming and production while providing a platform for farmers nationwide to showcase their cattle and wagyu meat brand.

Held every five years, resulting in its nickname, the Wagyu Olympics, the competition is hosted in a different part of Japan each time. Delegates travel with their animals and/or meat for up to three days by ship and road to compete over a five-day period.

Judges assess both livestock and meat in two main categories: breed improvement (such as the animals' size, shape and degree of muscle) and meat quality (such as its look and the amount of monounsaturated fatty acid in the marbling). There are also subcategories based on the cattle's age, gender and so on.

Kagoshima has a long and established connection with the competition, having hosted the second Wagyu Festival in 1970. In October 2022, Kagoshima will make history by becoming the first prefecture to host the prestigious event for the second time.
The 12th Wagyu Festival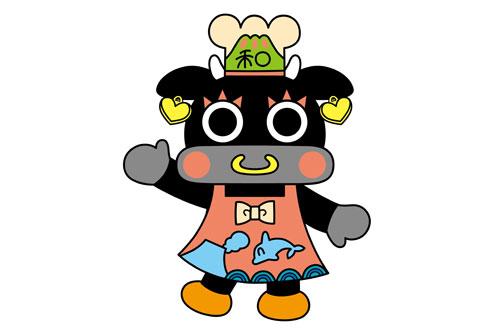 From October 6–10, Kagoshima Prefecture will host the 12th Wagyu Festival. Judging of the bulls will take place in Kirishima City while the beef part of the competition will be held in Chiran, Minamikyushu City.

The event is open to the public and all are welcome to attend.
For more information, please visit
Next article for you