Wagyu Festival (Wagyu Olympics) to be held in Kagoshima in October 2022!
What is the Wagyu Festival?
The Wagyu Festival (commonly known as the Wagyu Olympics) is a wagyu event held once every five years to bring together the best wagyu cattle from all over Japan to compete in various fields. It is considered the most important event for all those involved in the wagyu industry as prefectures achieving excellent results in the competition helps to improve their respective wagyu's brand power.

The Wagyu Festival consists of the "Breeding Bulls" and "High Schools and Agricultural Colleges" divisions in which the participating animals are judged on their shape and form. In the "Beef" division, the beef's quality and various other aspects are judged.

The previous Wagyu Olympics, in 2017, was held in Miyagi Prefecture, where Kagoshima Prefecture won the overall championship (group prize) and was crowned "Japan's Best Wagyu Beef."

The upcoming Wagyu Festival in Kagoshima Prefecture will be the 12th Wagyu Olympics.
Schedule: October 6–10, 2022 (five days)
Breeders Division (held in Kirishima City)
 Oct. 6 (Thu) 10:20 –12:00 Opening Ceremony
  14:00 – 16:10 Judging
 Oct. 7 (Fri) 09:00 – 17:00 Judging (with breaks)
 Oct. 8 (Sat) 09:30 – 16:10 Judging (with breaks)
 Oct. 9 (Sun) 09:30 – 16:40 Judging (with breaks)
 Oct. 10 (Mon) 09:00 – 10:00 Award Ceremony, Parade Exhibit
       11:00 – 12:00 Closing Ceremony

Beef Division (held in Minamikyushu City)
 Oct. 9 (Sun) 06:00 – 07:00 Grading Determined
As admission is not permitted to the general public, a special auction viewing site will be set up for visitors to watch the auction remotely via video.

The auction will also be live-streamed.
Participating prefectures: 41
Venues and Access
Breeding Bulls Division: Held in Makizono-cho, Kirishima City
Competition venue/special event site: Kirishima Plateau National Recreation Center and surrounds

There is no parking for general visitors in the vicinity of the venue. Please use the shuttle buses from the destinations listed below.
• Kagoshima Airport (takes about 30 mins)
• Festival Square, south side of Kirishima City Hall (a five-minute walk from JR Kokubu Station) (takes about 40 mins)
• Temporary Parking Site (takes 25–40 mins)

Beef Division: Chiran, Minamikyushu City
Special venue for auction viewing: Chiran Cultural Hall
Google Maps may not display correctly if left open for more than 1 day
Number of animals on display
• Breeding Bulls Division & High Schools and Agricultural Colleges: 273
• Beef Division: 166

Event Details
In addition to the competitions, various events will be held near the Kirishima City judging venue, where visitors can learn more about wagyu beef.

1. Kagoshima Prefecture PR Area
Agricultural, forestry, marine, and specialty products from the prefecture will be on display and for sale.

2. Supporting Organizations Area
The latest technologies, such as livestock ICT and agricultural machinery, will be exhibited by various companies and other organizations.

3. Wagyu Promotion Area
In addition to tasting brand-name beef from all over Japan, which proved popular at the previous Miyagi event, visitors can experience a barbecue of Kagoshima black beef.

4. Wagyu PR Hall (Kagoshima Breeding Cows Museum)
This hands-on facility offers visitors the chance to learn about wagyu cattle through a virtual cow barn experience, a 3D puzzle, and other activities. The venue will be set up at the Kagoshima Prefectural Kirishima Nature Fureai Center, adjacent to the Breeders Division venue.
Kagoshima Prefecture: Japan's Top Wagyu Beef Producer
Kagoshima Prefecture has the largest number of Japanese black cattle in Japan, with approximately 330,000 head, accounting for around 20% of the national market share. "Kagoshima Black Beef" is the brand name for Japanese black cattle raised in the prefecture, the largest wagyu-producing area in Japan. The meat is characterized by its mild richness and umami, which is obtained from its fine and beautiful marbling.
Attending the event as media
Please visit the link (in Japanese) and apply in Japanese
Registration Deadline: September 8, 2022

List of guide Interpreters
Here is an introduction to Interpreter Guides in Kagoshima Prefecture.
Multilingual Call Center Services (free)
If you need an interpreter while using a hotel, restaurant, taxi, bus, etc., please use the Multilingual Call Center (free dial): 092-687-6639
Enjoy Kagoshima Kuroushi wagyu beef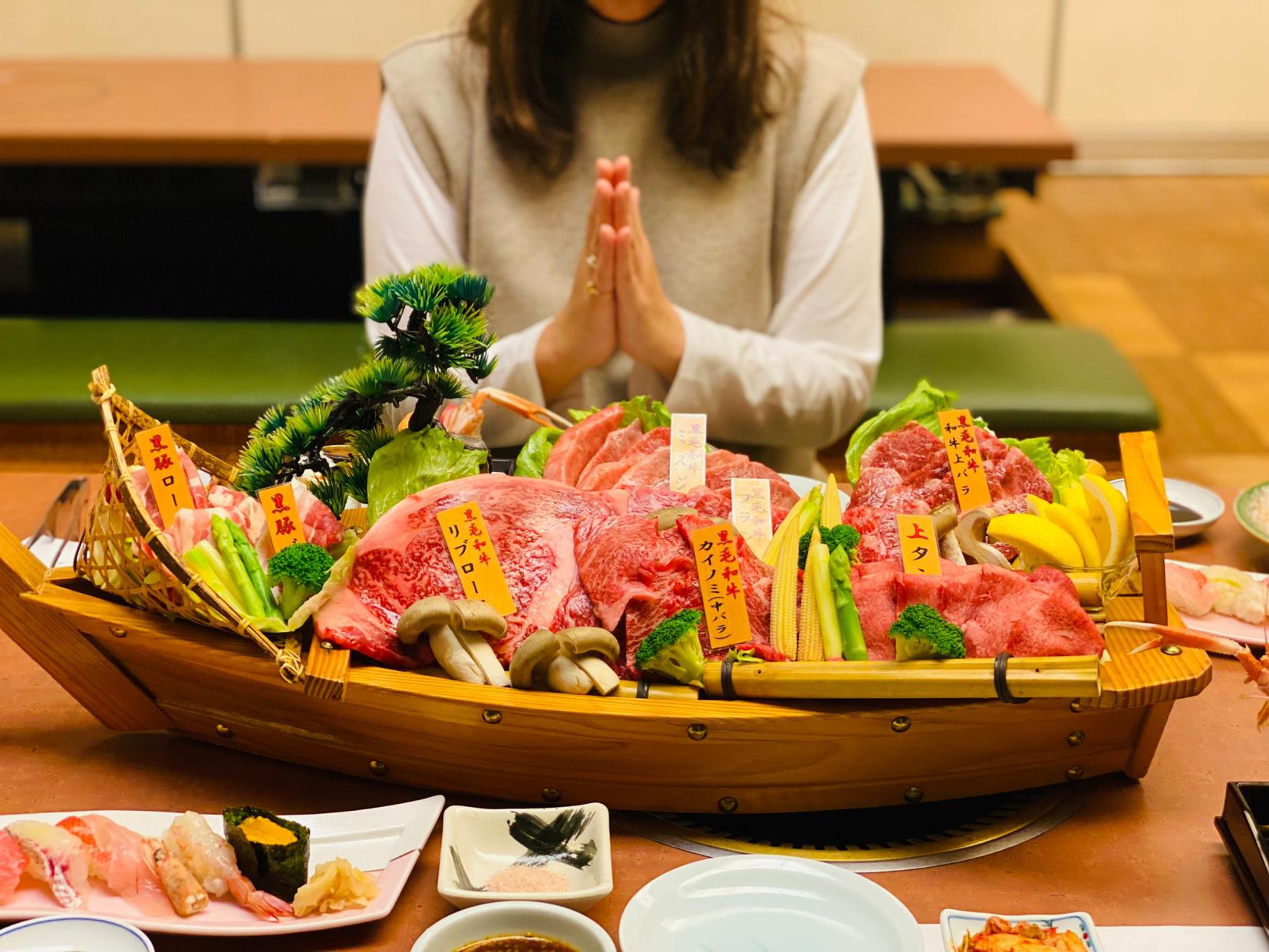 Restaurants of Kagoshima Kuroushi Beef
See more
Kagoshima Food Adventure ~Kagoshima Wagyu Beef~
Secretariat
The 12th National Wagyu Competition Association, Kagoshima Executive Committee
10-1 Kamoike-shinmachi, Kagoshima City, Kagoshima Prefecture 890-8577
Email: 12zenkyo@pref.kagoshima.lg.jp
Next article for you